New Schedule Planner For 2015
Sunday, February 22, 2015
One of my resolutions is to organize my life with a schedule and stick to it. Actually two resolutions, one brought forward from last year cause i did not fulfill it and another from the 20 things i want for 2015 hashtag which i did on my quotes twitter. But its one thing to be done to fulfill two resolutions.

I had a planner since last year and did a post on it together with my first resolutions review.




This was the notebook i used last year for my planner. I made a variety of schedules - a weekly detailed schedule; 3 post-its with the waking up time, sleeping time and goal of the day; a weekly schedule with meal times, wake up and sleep time fixed. However, i only followed these for a short period of time, maybe a couple of weeks and then i stopped following for months until i need to make changes to the schedule to accommodate my school timetable when changes every semester or because its holidays.

This year i decided to give my planner a total change. I bought this notebook at Typo which was on sale at a discount and did my schedule on a daily basis.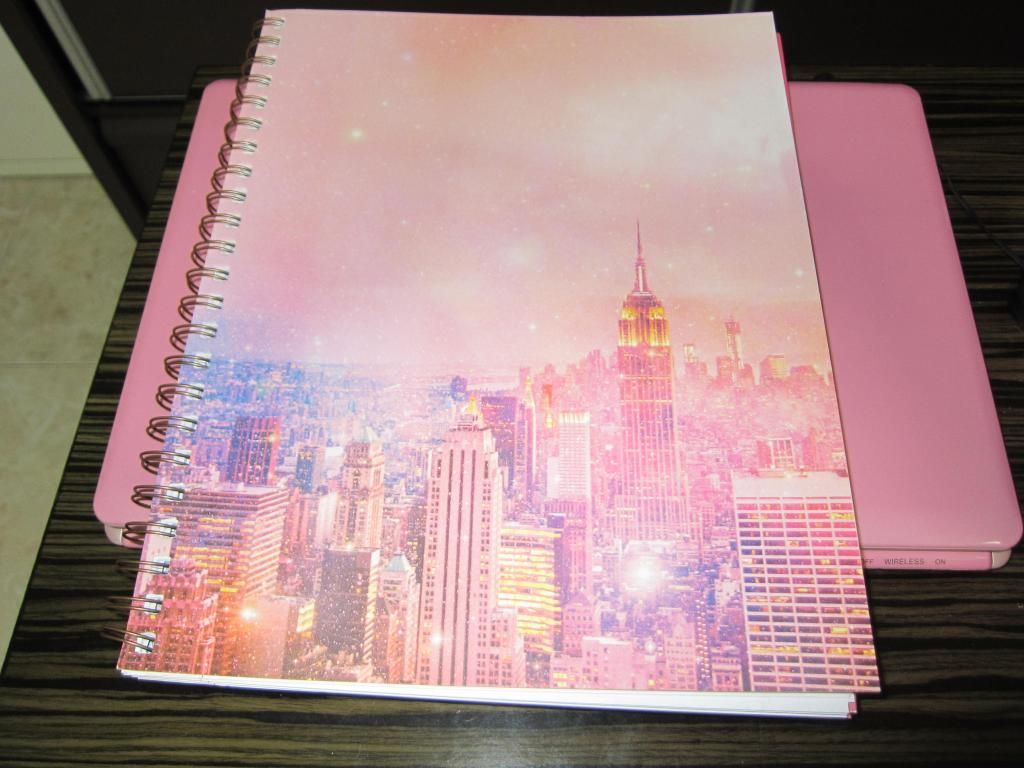 The daily schedule started on 8 January, the day after i bought the notebook and i made the timing in 30 minutes intervals. I also included an agenda for anything i want to accomplish for that particular day.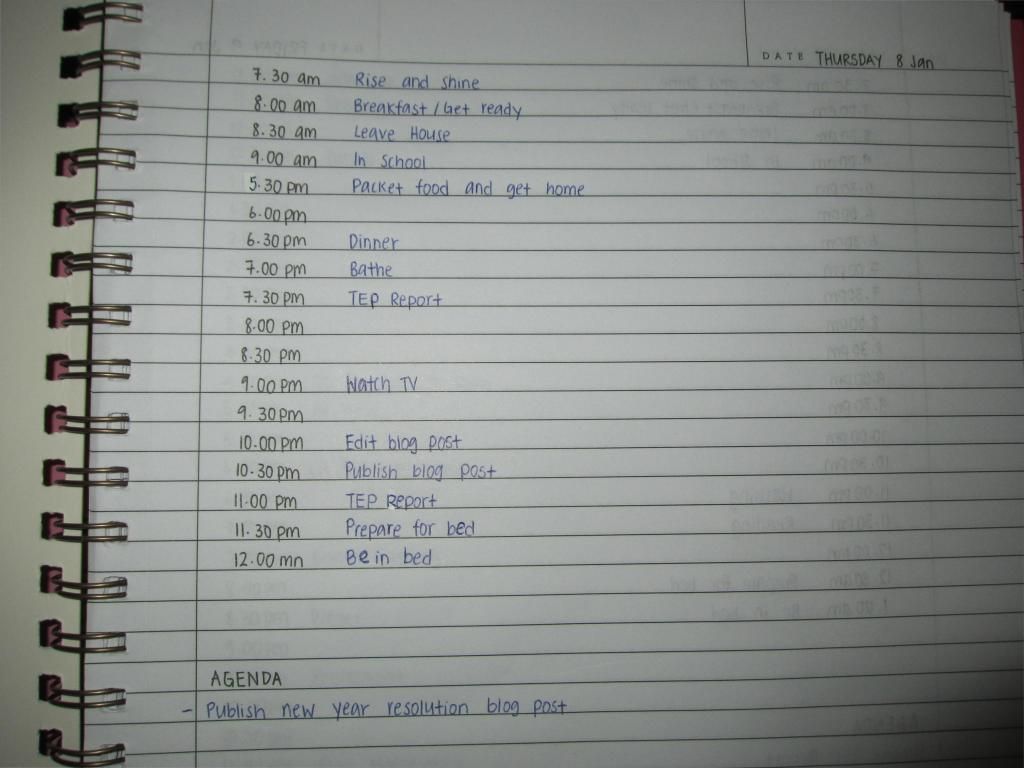 Since i plan my schedule everyday so i need to open up and look at my planner everyday. Hence, i want it to be colourful and decorative. To make it fancy but still practical, i use small post-its to write down things i need to do but don't have a specific time for it. These things should be repeatable things that i need to do on several days so that i can transfer the post-its from one day to another day.

I also use bigger post-its for my agenda. I just thought it would be nicer to have my agenda on fancy paper, provided i don't have any more space below the schedule on the notebook itself cause sometimes if the day to plan if quite short, i will put two days on one page. Since i'm in school for the whole day, its pointless to list down all the timing cause there will be a big gap between morning and evening which is a waste of space. Sometimes when i know i will be out for many hours, i also skip listing down the timing that i'm not at home.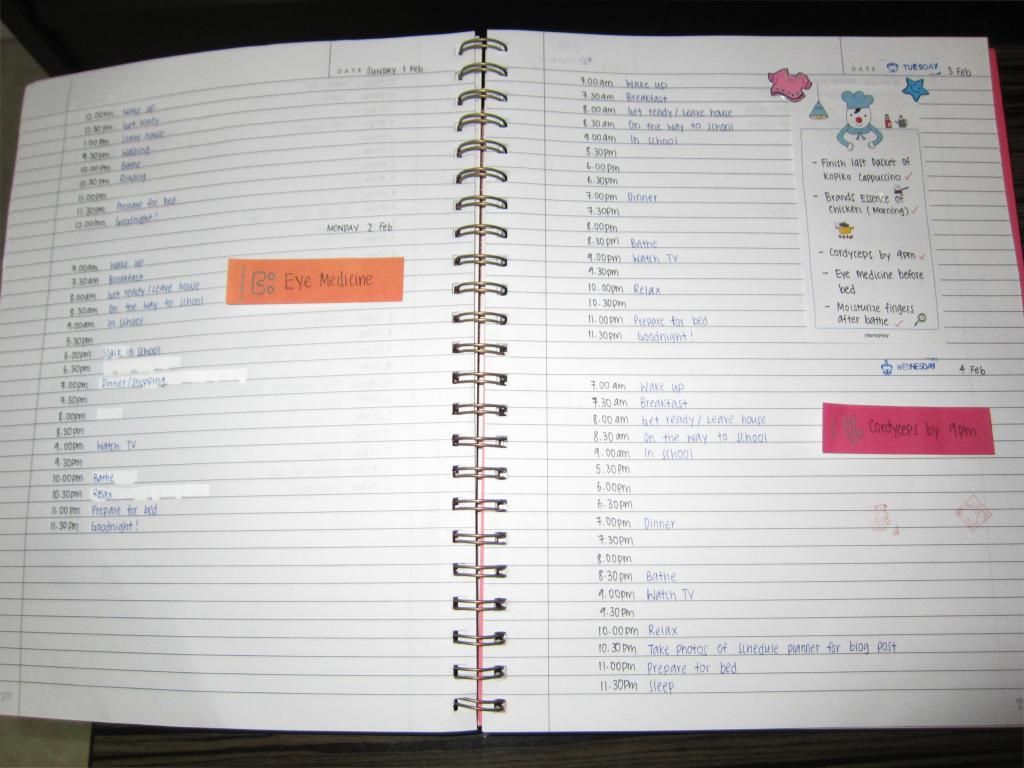 When i first started i write the day but after the thought of decorating, i started to use stamp for the day. I also use stickers to decorate the pages.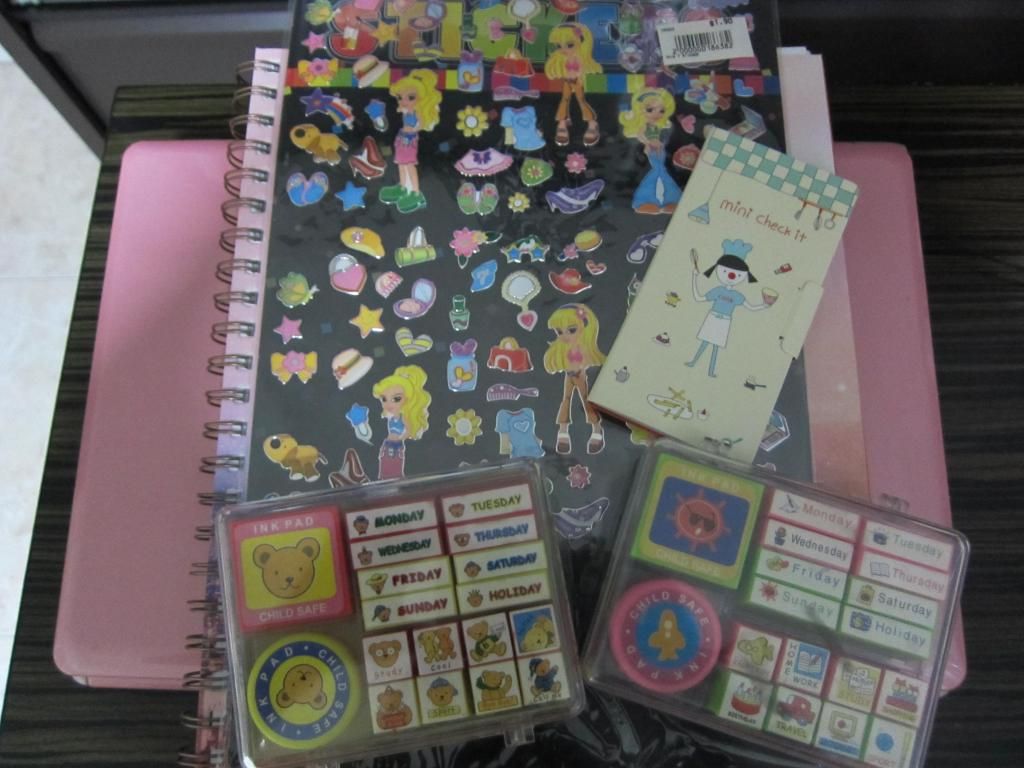 After using a bigger notebook and planning my schedule daily, i find that i'm more disciplined in following my schedule. Although sometimes i don't do things at the planned time, i try to complete all the things that is stated in the schedule for the day. I guess having to see the schedule everyday actually reminds me that i have a schedule to follow. For last year's way of doing the schedule, since the schedule is only planned once in a couple of months sometimes i forgot to look at the schedule. So after a few days of forgetting, it gets completely forgotten.

Even though i'm using another bigger notebook as my planner, the small notebook is still put to good use. I used the previous planner to make lists such as ideas on blog posts for this blog, video ideas for both Youtube channels and breakfast meal ideas. I'm thinking of making lists for other meals as well to incorporate healthy meals into my diet.

Although planning my schedule on a daily basis shows an improvement in me following the schedule and keeping my life organized, this may not continue for the whole year. After almost two months, i realize that it is somewhat tedious. On some days, i may not have have time to plan my schedule for the next day. There are also days when i felt lazy to plan. But i'll see how it goes!