Cycling at East Coast Park
Sunday, September 19, 2010
I had the sudden thought of changing blogskin because i feel that this current blogskin looks weird. But then, it has only been almost a week since i changed to this and i love the graphics on the sidebar. So in the end, i've edited somethings on this one and now it seems satisfying.

Okay, back to the main topic.

I went cycling with my parents today at east coast park. Our journey started on one of the bicycle rental kiosk. We cycled non stop till the hawker centre where we stopped for a toilet break. Then we continue cycling til the bedok jetty where we stopped again and enjoy the scenery.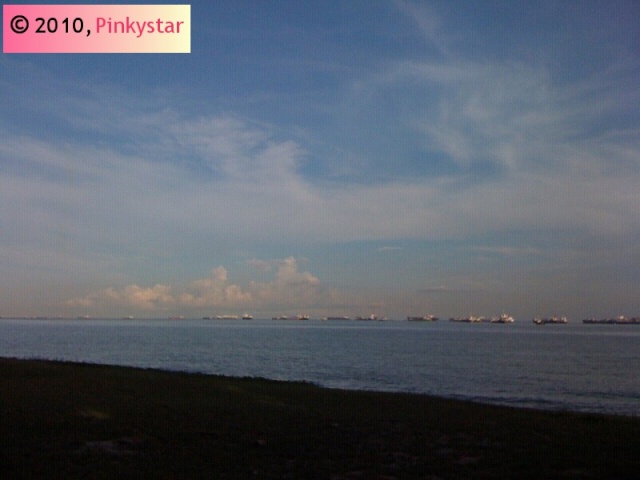 Pictures of the scenery taken from the bedok jetty.

After that, we cycled back a small distance and stopped at the fitness corner where we bought drinks at the stall opposite the fitness corner, did abit of excerise using the equipments and also rest.

Then we continue our journey back and passing by the bicycle rental kiosk we rent our bikes from and stop at the one of the hut. Mum and i just sat at the bench to rest and also enjoy the scenery while dad walked around and enjoy the scenery.

After the scenery enjoying, we cycled back to the bicycle rental kiosk to return our bikes. The whole cycling journey lasted for 1 hr 30 mins. It was definitely a great workout! Breathing in the fresh air and enjoying the sceneries were great too!

After returning our bikes, we went for dinner at waraku. Luckily, we reserved a place before we went to cycle because there were many people waiting, so we got the sit straight away!

I ate scallop and cheese udon in cream sauce. It was very yummy! I ate it before and i'm so in love with it! Mum and dad ate garlic fried rice and some side dishes. I did ate abit of the side dishes too. They were awesome! I'm been there quite a few times and i think that's the best japanese restaurant i've ever been too! Compared to sakae sushi and ichiban. Haha! :) No offence for sakae sushi and ichiban lovers.

Today was a great, awesome, fun and good sunday! :)

Tomorrow marks a new week and its 3 weeks more to end of school holidays.